Monaco 6 Stripe Poker Chips Review
by jeff123

Manufacturer:
Trademark Poker
Retailer(s):
Discountcasinogear.com
Average Price:
7 cents each
Material:
Plastic with metal insert (11.5 g)
These chips have the same makeup as their 11.5 g metal slug dice chip cousins - they are made from ABS and have a slug. This is a review of the newer, 2nd generation Monaco chip(http://www.discountcasinogear.com/store/product3791.html) from Discountcasinogear.com. The older 1st generation Monacos are made from a softer plastic and are becoming unavailable (red is now difficult to obtain).
First Generation Monaco:

Second Generation Monaco (the subject of this review):

Pros
Price, .07 a piece makes it one of the most inexpensive options
Recessed Center - Perfect for a 1 1/4" custom label
Looks - An upgrade in terms of looks to the other dice chips out there.
Cons
Essentially a dice chip
Quality Control issues: cracks in chips, differences in size and stacking, strings of plastic shedding from chip.
Stacking is not great.
The black and the white may be hard to tell apart when they are in stacks (see the following photo of two whites and two blacks).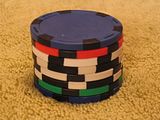 Price
Not too many chips can beat this price. All in all its a pretty good deal if you are looking for a cheap chip that is a small step up from your average dice chip.
Feel
The feel of the new Monaco's are very similar to the generic 11.5 gram ABS dice chip. The chip is very smooth and plastic feeling. The inlay area has a very thin piece of plastic separating it from the metal insert inside the chip. The chip has 6 slits on the outer edge in between the 6 edgespots. I have no idea what the purpose of these slits are besides design. It may aid the chip in stacking.
Stacking
These chips can stack up to 20 with no problem. Once it gets to 40 it starts to wobble a tiny bit when moving a stack into the pot. At 60 it starts to wobble a little bit when its just sitting there. At 80 it starts to really wobble when just sitting at the table. And stacking up to 100 is very hard to do without it being very unstable and seemingly about to fall at any given time. I feel uncomfortable with stacking these things higher than 40. The weirdest thing about these chips is how different colors stack differently. I ordered yellow, pink, and black. And black stacks better than the pinks and the pinks stack a lot better than the yellows. Also the yellow chip is slightly thinner than the other two colors.
Sound
Probably one of the loudest chips that I have ever dealt with. Very similar to the 'plink' sound a dice chip makes. Since the inlay is recessed, there is less plastic over the metal insert to dull the metal sound. I don't think this is necessarily a negative factor, just depends on your preference.
Looks
In my opinion, the Monaco's have a much better look than the other dice chips out there. And since it has a recessed center it is able to take on a label which will just make it a lot nicer (see this post by kayos: http://www.chiptalk.net/forum/custom-chip-gallery/21540-my-labeled-business-card-monaco-chips-pics.html) . I would not suggest getting these chips without intending to put a label on it. As you can see from the pictures there are manufacturing bumps and injection spots on the inlay of the chip. By putting a label you can cover up these dots. There is also strings of plastic that shed off the chips when you first get them. All you really need to do is scratch it off with your fingernail.
Security/Originality
These chips have little security unless labeled. Any chip with a custom label is pretty secure in my opinion.
Durability
These chips do not have great quality control, but it is really hard to break a plastic chip. The inlay is susceptible to cracking as there is only a thin layer of plastic covering that area. The yellow chip furthest left shows this.
Reviewers Comments
This chip is essentially a dice chip with better looks and custom label ability. For .07 a piece it is a good cheap chip, but I would not recommend these if you have no plan on labeling them.
Additional Pictures